Phi Phi Snorkeling Private Boat Hire
Phi Phi Islands are world famous for their outstanding natural beauty, one of the best ways to explore them is with the private charter of your own boat! Travel around in style and comfort whilst exploring the islands at your own pace, create your own schedule and make the most of your day in Paradise!
All of these trips start and finish in Phi Phi and you have a number of options for where to visit. Excursions are available for 3 hours or 6 hours, or if you are looking for something completely unique then do send us a message and we will do our best to exceed your expectations.
Working with local experienced captains we'll ensure you are in safe hands for your day on the water. With several departure locations to choose between as well as your choice of time, let us help you make the most of the Phi Phi Marine Park!
Your friendly Boat Captain will be able to guide you around and take you to some stunning locations, the trip includes a mask and snorkel to explore the coral reefs surrounding Phi Phi, there is also drinking water on the boat, and you have the option to have a delicious Thai meal prepared for you to enjoy along the way.
3 Hour Private Tour - 2200฿ or 6 Hour Private Tour - 3400฿
Price for 2 people. +250฿ per person.
Where to go?
Leaving from Loh Dalum Bay you are perfectly situated to explore some of the lesser visited sites to the north of Phi Phi, Monkey Beach, Nui Bay, Loh Lana Bay, Wang Long or Bamboo Island (400฿ National Park fee per person), each of these stunning locations has its own unique charm and striking characteristics. You can visit each of these during a 3 hour trip. Alternatively you can also travel to Phi Phi Leh, an island where stunning limestone cliff faces rise from perfect turquoise water and reveal hidden lagoons and tropical beaches, popular stops include Viking Cave, Pileh Lagoon and Maya Bay, again this tour can be completed in 3 hours departing from either Loh Dalum Bay or Tonsai Bay. A 6 hour trip will give you the freedom to travel anywhere you like within Phi Phi, and also making more stops allowing you to enjoy more time snorkeling or exploring beaches!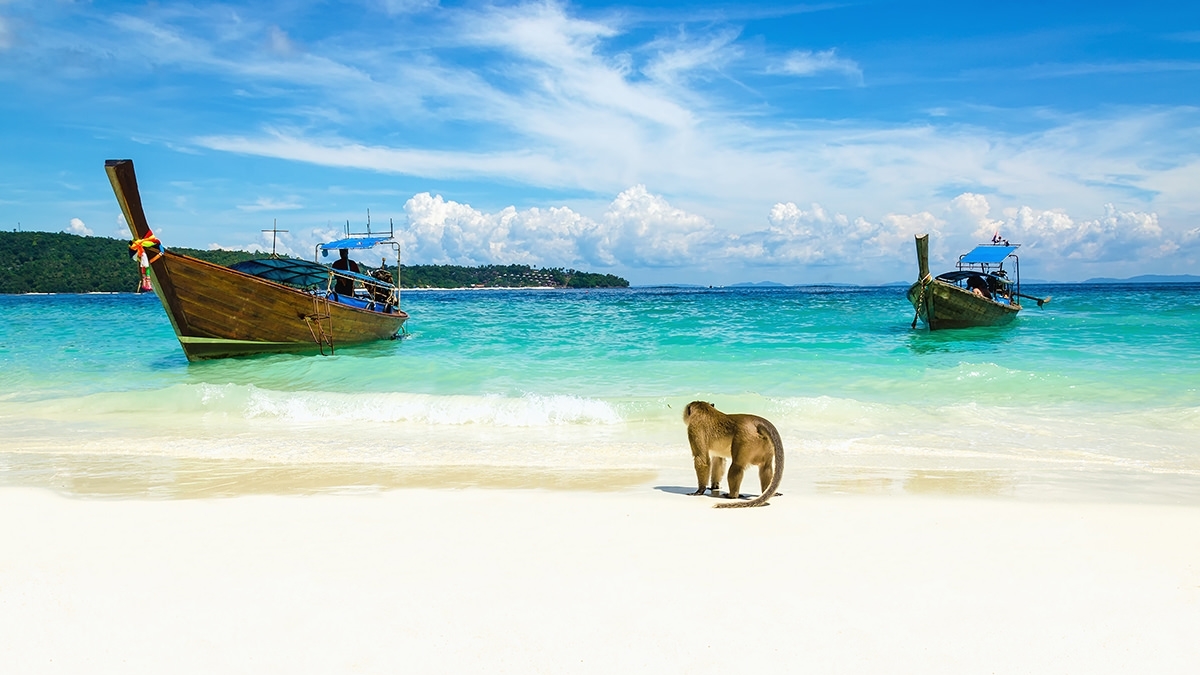 Experience a quieter side to Koh Phi Phi exploring some of the beautiful and lesser visited sites of Phi Phi Don. Empty beaches, beautiful snorkeling and cheeky monkeys!
Laem Tong

Loh Lana Bay

Nui Bay

Monkey Beach

Wang Long (subject to tides)
Visit some of the iconic sights of Koh Phi Phi Leh, the famous Maya Bay is more stunning than ever without boats lining the beach and the natural beauty can be enjoyed from the bay, as well as Pileh Lagoon which is sure to amaze and offers stunning photo opportunities.
Maya Bay

Pileh Lagoon

Loh Sama Bay

Viking Cave
Make the most of this once in a lifetime experience by visiting a mixture of stunning hidden bays, tranquil lagoons, snorkeling on beautiful coral reefs and relaxing in the picturesque Phi Phi Marine Park.
Maya Bay

Pileh Lagoon

Loh Sama Bay

Viking Cave

Wang Long (subject to tides)

Monkey Beach

Nui Bay
Bamboo Island is often voted one of the worlds most stunning beaches, a perfect white sandbank protruding into the turquoise waters of the Andaman Sea, visitors need to pay an additional 400฿ to the National Marine Park to visit the beach, and a tour of the island can also include a visit to the quiet northern beaches of Phi Phi Don.
Bamboo Island (+400฿ National Park entry)

Laem Tong

Loh Lana Bay

Nui Bay

Monkey Beach
Stunning scenery at every turn
Around every turn Phi Phi offers up some stunning scenery where sheer cliff faces meet turquoise waters with beautiful coral reefs and schools of fish hiding just underneath the surface. Enjoy exploring around these beautiful islands with a mask and snorkel and it's definately worth bringing a camera!
Wherever you'd like to go, with whoever you'd like to go with!
Boat tours are available for solo travelers, couples, families or for larger groups travel in convoy as you explore these tropical waters, stopping for snorkeling, sunbathing, sightseeing or photos. It's your day and your captain will ensure you get the most out of it!
Choose your starting point
We are situated in the very corner of Loh Dalum Bay, we'd recommend you start your trip with us here so we can tell you all the best spots, but you're very welcome to start your trip from another location if it's easier, we can arrange to meet you at the other end of Loh Dalum Bay outside Slinky Bar, or alternatively close to the main pier from just outside Phi Phi hospital near Nice Beach in Tonsai Bay, please confirm when booking your trip.
Phi Phi National Park
Although snorkelers and boat passengers are often exempt from National Park Fees, it's worth remembering if you are planning to visit Bamboo Island there is a National Park fee of 400฿ per person.
Maya Bay - more beautiful than ever
Maya Bay has become a world renowned tourist destination since the 2000 movie 'The Beach'. For a long time visitor numbers of up to 5000 people each day was having a detrimental impact on the stunning natural environment. From June 1st 2018 visitors are allowed to enter and enjoy the bay, but can no longer stop on the beach. What's taking place on the beach now is a combined regeneration effort of planting mangrove trees as well as the planting of thousands of of corals led by Ocean Quest Global and the Thai Authorities, with the help of local dive shops.