Diving Packages + Dive Clubs
If you are looking for the perfect location for a diving holiday, then we believe you may just have found it in Phi Phi, and we'd love to show you around! Phi Phi and it's surrounding Marine Park has a great mixture of dive sites, and if you are looking to explore them over a number of days of diving then we can work with you to create the perfect itinerary. Whether it is for yourself or your club we will do our utmost to ensure you get exactly what you want out of your diving holiday. With a hotel, restaurant and bar here at Beachfront we strive to ensure that your surface intervals will nearly be as great as the dives themselves!
Phi Phi Marine Park
There is a wide variety of diving within the Phi Phi Marine Park, with the striking geography providing both shallow sloping dive sites, sheer walls as well as pinnacles, tiny islands to circle and ship-wrecks. There are also no shortage of postcard views as you make your way around the islands in style on a customised dive boat, taking in the breathtaking scenery along the way and during surface intervals.
Using both small traditional Thai longtail boats and larger purpose built diving boats we are able to take you to all of the dive sites within the Phi Phi Marine Park.
Our local dive site Nui Bay is simply stunning, providing a mixture of gentle slopes as well as a vertical wall, and boasts a fabulous array of beautiful corals and schools of fish.
Another favourite of ours is Palong on the western side of Phi Phi Ley. Black-tip reef sharks and turtles can often be found here in the shallows, as well as some exciting swim-thru's within the epic limestone coastline which makes these dive sites so unique.
Bida Nok and Bida Nai are two of the top dive sites in the Andaman Sea, and both offer a mixture of hard and soft corals as well as many species of fish often seen in large schools, as well as the chance to see sharks, turtles, or if you are very lucky even a whaleshark.
Nui Rock and Camel Rock, Phi Phi Marine Park
SCUBA Equipment
All of our equipment is brand new for 2016/17 and we're sure you'll love it. But if you would prefer to use your own equipment then we can offer a discount on the price of diving. Or if you need that final piece of equipment then as an Aqua-Lung Partner Centre we can help.
Marine Life
The waters around Phi Phi Islands contain a rich tapestry of marine life. Harmless leopard sharks and black-tip reef sharks, graceful turtles, huge schools of fish as well as lots of macro marine life and stunning hard and soft corals.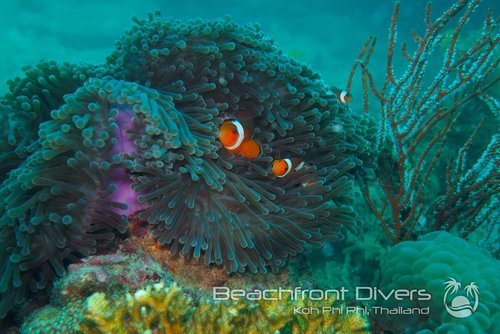 Please send us an email and we'll do the rest